Omapaja's story
Omapaja was born out of the desire of experienced business coaches to encourage people to become entrepreneurs.
2011 – Starting business

In the background of Omapaja are business coaches Markku Jääskeläinen and Ilkka Karttunen, both of whom have more than twenty years of experience in organizing entrepreneurship coaching. When organizing coaching for start-up entrepreneurs, they found that some of the participants in the coaching started their own business, but for some the threshold for starting a business was too high. Markku and Ilkka wondered how to lower the entrepreneurial threshold. This is how Omapaja was born

Working life is undergoing change

Working life is undergoing a drastic change. Permanent, full-time employment is declining at an accelerating rate, and work and skills do not meet in the same way as they used to. There is still work to be done in companies, but the threshold for hiring is high. Companies would rather buy work than hire new workforce. Omapaja answers to the change in working life by offering alternative ways of employing and being employed, so that working in Finland can remain profitable in the future as well.

The mission of Omapaja

The mission of Omapaja is to increase the prerequisites for entrepreneurship in the society and to promote people's internal entrepreneurship. We strive to ensure that more people work with passion and are proud of the work they do in the future. In our opinion, it works best when people feel that they are doing the work for themselves and are better able to influence their work.

Easier ways to entrepreneur

We at Omapaja want to be creating even easier ways for entrepreneurial people to earn with their own skills. We want to make starting entrepreneurship as easy as possible so that the downsides of starting a business do not dim the fire of people's internal entrepreneurship. We are pioneers of the future working life in promoting entrepreneurship.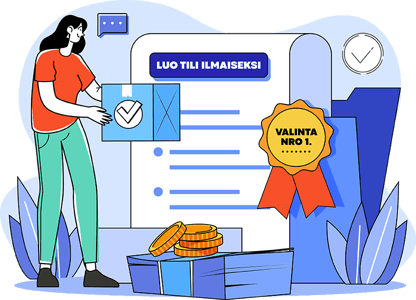 Aloita kevytyrittäjyys
Liity ilmaiseksi tuhansien kevytyrittäjien joukkoon laskuttamaan työtäsi helpommin ja turvallisemmin. Hoidamme töidesi laskuttamisen, kirjanpidon ja vakuuttamisen. Ilman kuukausimaksuja ja piilokuluja.