Contact details
Questions about entrepreneurship? Contact us and we will figure it out together. Telephone, chat and email service on weekdays 8.30-16.00.
Omapaja Oy
Kauppurienkatu 31 A 1, 90100 Oulu
Business ID 2399894-2
Founded in 2011
We encourage people into entrepreneurship and independent work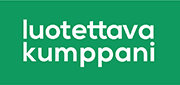 Billing information
E-invoicing
E-invoice address (EDI ID): 003723998942

Operator: Maventa (003721291126)

Data format: Finvoice
Email invoices
We ask you to send only invoices to this address. The invoices are sent to the service as PDF email attachments, and the attachments of the invoice should be in the same file with the invoice.
You can send multiple invoices in a single email, as long as each invoice is a separate attachment. All files must have a different name.
The maximum size of a single email is 5Mb.

PDF files must be genuine PDF documents (PDF version 1.3 or later).

PDF files must not be locked or password protected.

The maximum external dimension of the document is 210 x 297 mm.

Allowed characters in the attachment name are common characters, a-z, A-Z, 0-9. Do not use special characters to name attachments
Paper invoices
Omapaja Oy
23998942
PL 100
80020 Kollektor Scan
The address details must be complete on both the invoice and the envelope so that the invoice can be forwarded quickly and reliably to its recipient. Please do not use staples on invoices sent to the scanning service.